December 11 2012
3
11
/

12
/

December
/

2012
12:41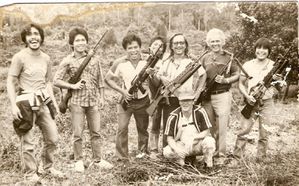 In Sumisip municipality, Basilan Island, with friends, years ago...
No Ay Verdad-No Truth
________________
As a writer from Mindanao, this I can say: no truth that these peace talks between Philippine government and the Muslim rebels bring peace and welfare to Mindanao, to my hometown Zamboanga City and our island neighbor of Basilan. Of these towns I can speak with some familiarity and maybe a bit of some authority.
______________________
The first peace talk was held in Zamboanga Normal School, now named WMSU (Western Mindanao State University), first week of April 1976. At the peace talk all the members of the panel were military people; no civil participatcon save for representatives from Malacañang, and there was, I remember, a Sulu governor appointed by the late Dictator Marcos, but he always appeared dressed in impeccable military uniform as a full colonel. No invitation as member of the panel, even out of courtesy, was extended to our mayor Joaquin Enriquez.
But all Moro rebels were invited to come down from their villages and hills and mountains, emphasizing it wasn't 'to surrender,' but to 'integrate themselves into the society.'
The over-all boss of the 1976 peace talks was Admiral Romulo Espaldon, Southcome chief, known that day as the 'little president.'
_____________________
The outcome of this peace talk was the Tripoli Agreement of 1976, which gave life to the ARMM, autonomous region for Muslims in Mindanao. In no time disgruntled Christians put a tag on it as the 'monotonous government.' Muammar Gaddafi was the one who brokered it. Activists showed a picture, smuggled somewhere, of the First Lady Imelda Marcos and Gaddafi, very chummy together, while in the background 'the rich and the famous' were amusing themselves on the Presidential Yacht in Manila Bay.
_______________________
However, this agreement of Moro autonomy did not bring peace to Mindanao; thus our government again entered into many more peace talks and agreements with theMoro rebels, sprouting like mushrooms on rotten logs. But before this Hashim Salamat broke away from Nur Misuari, took with him 57 rebel commanders of Misuari, called his group the 'New Leadership.'
____________________
Por fabor, listen to this: ten years later in 1987, there appeared an instrument confirming the ARMM; and again Salamat refused to accept it .... then, a decade and a half later, 2001, the Moro rebels, under Nur Misuari's nephew, Julhambri Misuari, entered Zamboanga City, took over the LTP building complex in Cabatangan barrio, only some 4kms. from the city hall of Zamboanga.
Then the Moros set up their own check points, yes, close to the Marine's at the Edwin Andrew's airbase, and in October and November, fully armed MNLF rebels arrogantly roamed the city on jeeps mounted with machine guns, waving their rifles … the police and military looked the other way.
On November 20, Southcom attacked the LTP complex, firing mortars at it, and Tora-Tora single-propeller airplanes, relics of WWII, and helicopter gunships took off from Andrew airbase, and, as if they were in an aerial exhibition, put forth sobre salliente excellente acrobatic flying.
Zamboang on-lookers cheered! Arriba!
But surprise of all mother and grandmother surprises, the Tora-Tora airplanes did not fire nor drop their bombs at the Moro rebels, but around and around the perimeter of the LTP complex. No one was obviously hurt; not a fly nor even a grasshopper.
The on-lookers ceased cheering.
So, wisely, the Moro rebels had stayed in and never went outside the building.
In the evening, of that same day, the civil and military celebrated. The Moro rebels, they boasted, were too scared to come out and fight them.
________________
Then early dawn, city hall officials and military top brass still gloating over the simulated land attack and aerial bombings ¾the Moros struck. It was November 21, 2001.
In the half darkness, stealthily they crawled to Cabatangan subdivision and abducted some 100 residents, afterwards they crept down to barrio Sta. Maria, and at eight o'clock that morning, halted right before the western gate of Edwin Andrew airbase, and, pointing their guns at the hostages, challenged our Marine sentries, shouting, 'Alahu Akbar!' Then, the Moro rebels proceeded north toward Pasonanca, one of the most populated barrios.
They got there about mid-afternoon, said the residents there, and promptly occupied their homes, then looted and 'took everything we have ¾ even our cooking utensils!' Again, the police and military looked the other way.
Some concerned citizens tried to negotiate, and for a while there was a stalemate.
________________
Later that afternoon, the military sent five 'six-by' military trucks and an armored personnel carrier, an APC, to barrio Pasonanca. As before when Tora-Tora airplanes and helicopter gunships were seen in the sky over the LTP complex, the residents greatly cheered. Arriba!
It was a short-lived cheer.
Because to the barrio folk's surprise, the MNLF rebels boarded the military trucks with their loot, and then promptly the police and military escorted the Moros to Panubigan sitio on the east coast of the city and from there, Julhambri Misuari and the rebels sailed to Sacol and returned to Jolo, undisturbed.
It was Zamboanga's day of shame.
________________
One morning, years later, our city mayor Celso Lobregat was shock when he heard on the radio that City Hall and his grandfather's antique house, where he grew up, had been given away by the Philippine government to the Moro Islamic Liberation Front (MILF). Our distraught city mayor, in truth and appearance, was himself a squatter at City Hall and in his own grandfather's antique house. It was July, 2008.
That July morning was the first time he learned of its content. A copy of the Memorandum of Agreement on the Ancestral Domain (MOA-AD), which had been drawn in Malaysia earlier that month, was later that morning smuggled to Lobregat by a trusted friend from Manila's central office.
MOA's presidential adviser on Peace Process was General Hermogenes Esperon, whom the mayor knew as he was the former Southcom chief with headquarters in Zamboanga City. When Mayor Lobregat asked Esperon why City Hall and his grandfather's antique home now belonged to the MILF, was inside its territory, Esperon, without batting an eye, replied, 'I didn't know that your place is inside …. ' It was a shameful, brazen lie.
Said Conchita Carpio-Morales of the Supreme court, 'In sum, the Presidental Adviser on the Peace Process [ referring to General Esperon] committed grave abuse of discretion…amounting to a whimsical, capricious, oppressive, arbitrary and despotic exercise thereof.'
_______________
All during this time, like a plague, a virus ¾ the Abu Sayyaf and the Al Qaeda and the Jamia Islamia furiously swept Mindanao: an everyday thing were murder, kidnappings, and bombings. Ransoms paid grudgingly, but everyone denied it.
And, once again, new peace talks and and agreements and cease fires continued to proliferate Mindanao like a swarm of deadly flies.
But none of these worked. Terrorism and bombings further swept throughtout the southern region of our country; of my hometown Zamboanga, of my neighbor island Basilan, where in my youth, I used to hunt wild boars and monkeys, but now they say you'll turn out to be the hunted.
_________________
What is to be done? I looked back, and hopefully have found the answer, a solution tested by blood and time.
Whenever freedom, human dignity, and truth were threatened writers rose to the challenge, to the occasion, as critics and and reformers. No need to look at other parts of the globe, it is easy to see, quite easy with our own models.
In our country the Philippines we have: 1) Jose Rizal's novels the Noli and Fili; and before he was shot by the colonial Spaniards, he wrote 'Ultimo Adios,' hiding it in an oil lamp.; 2) Carlos Bulosan, a socialist, wrote against racial prejudice in America, and astonished his reader with his paradox in America Is in the Heart ; 3) an unfamiliar and poor province Mindoro, begetting a legend, a son who championed against his town's bog of poverty and destitute; 4) and Frankie Sionil Jose, a knight in not too rustic mail or shining armor, took up the lance and sword to stigmatize feudalism, the lusty friars' and guardia civil's nefarious heǧemony. Read Sionil's novel, Po-on, and grind your teeth hard.
Thus, it is for the writers today, to take up their pens as lances and swords ¾use them as commentators and reformers ¾ we call on the poets, the essayists, playrights, short story writers, and the novelists to write and free our country, free her of this charade of peace talks, free her of this hypocrisy of 'cease fires'; do this as your grandfather writers had done before you.
________________
Just recently, just before I left for this conference today, an Abu Sayyaf was caught in my hometown Zamboanga and found in his small room were complete bits and pieces for an excellent bomb. It was November 26, 2012.
Quickly, authorities brought him to Manila, and we hope he does not break jail. It is not uncommon, you see, that terrorists do a 'Houdini' and disappear from their cells in Manila.
_________________
Thank you so much for your time. Buenas tardes.