February 15 2012
4
15
/

02
/

February
/

2012
09:46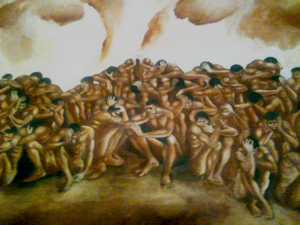 Enriquez collection:painting: Saudi
Did the Late Mayor Cesar Climaco Foresee His Assassination?
January 8, 1982
Hon. Manuel A. Dalipe Vice-Mayor City of Zamboanga
Dear Manny:
With reference to the intelligence report which I transmitted by telephone to you at about 9:30 last night, please be informed that the same has been confirmed early this morning by reliable official sources.
Against a determined assassin, no amount of vigilance or evasive action can save a target ¾ hence in the event of my death, I am hereby alerting you to immediately take over the Mayorship and, hopefully, to try your best to ascertain and apprehend the killers.
I do pray, however, that you will comply wit my wish to be buried immediately: not exceeding two hours after death; or within two hours after sun-rise, if death takes place at sun-down. It is my further wish that no coffin be used and that I be interred in the very same clothes in which I had been gunned down.
It is also my fervent wish that I be buried at the Sta. Maria Catholic Cemetery ¾ for which arrangements have already been made with the Sta. Maria Parish Priest, and that the services would be simple and inexpensive.
Very truly yours,
(SGD) CESAR C. CLIMACO
Mayor
P.S. Enclosed is a xeroxed copy of our letter of even date to
Maj. [General] Delfin Castro, which is self-explanatory.
A true copy:
X_____
Senior clerk
11/14/84