August 30 2012
5
30
/

08
/

August
/

2012
15:42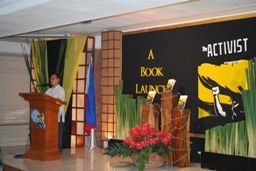 ADZU President Rev. Fr. Antonio Moreno, S.j., welcomes guests at the book launch of 'The Activist.'
We launched "The Activist" at Ateneo de Zamboanga University, March of 2011, sponsored by the Ateneo and Climaco Foundation. The historical novel is based on the real life story of Cesar C Climaco, the figting mayor of Zamboanga City, once dubbed "Mayor Lacson of Mindanao," after the fearless mayor of Manila, who fought against crime and corruption, when mobsters ruled that city. He was a staunch and relentless critic of the P.I. dictator, Ferdinand Marcos. Inevitably and not surprising he was assassinated in broad daylight right in the heart of the city and her people. His murder, like the President's father, Benigno Aquino, has remained unsolved all these long years.
T
he book is available at UST Publishing House, National Bookstores, and in Cagayan de Oro City at Museo de Oro, XU (Irene), and Ramiroville I, Macanhan UCCP compound, Macanhan(Tony).
The next day, before lunch, President Ferdinand Marcos, now a protean dictator under martial law, declared from his Malacañang Palace by the Pasig: You are free to campaign for or against the final draft of the constitution. Free debate shall be its character. You are wrong if you think I have curtailed your freedom and your right to speak. Let no man from this day on doubt it. Go out and campaign for a 'yes' or 'no' vote, as all men will in a democracy! After he had made the statement, Dictator Marcos sent out his intelligence men to monitor those critical and campaigning for a "no" vote.
Lorenz Diaz, Jr. scoured Luzon and Mindanao campaigning for a "no" vote. By land and water, in the pueblos and far-flung villages of Mindanao, on the back of horses and carabaos. A mockery of the people's will is what the new constitution is, my brothers and sisters, he cried, in his throaty, rasping, often high-pitched voice. From the top of a wooden-cart, he said this new constitution did not represent the heart and soul of the people, because their delegates in the convention were forced under threat of imprisonment or death to draft it. One man alone had written the new constitution: he told them the village folks, and that is the Dictator Ferdinand Marcos. It is no doubt a bastardized version of our constitution! Many of the folks came on foot or on the back of horses and carabaos. Farmers with bigger fields of corn and rice rode on oxen. It was the first time they saw a "very high official," they came not particularly to hear him, and they told him so We do not understand so much, what this constitution is. But it is the first time that a high official of our land has come to our barrio. Before you, there was no one who came, and gave such importance to us. We are humbled, and wish to thank you!
ððð
Lorenz came to his hometown Zamboanga some weeks after the constitutional campaign, after the arrest and detention of his friend Fidel Imbing.
It was sometime in November 1973, they say, one year and two months after the declaration of martial law, when President Marcos issued an ASSO (arrest, search and seizure order) for Constitutional delegate Lorenzo ("Lorenz") Diaz, Jr. He was then arrested, detained, and right away flown to Camp Crame, Quezon City.
How did this happen?...