October 4 2012
5
04
/

10
/

October
/

2012
14:50
Reworked
☼ Antonio Enriquez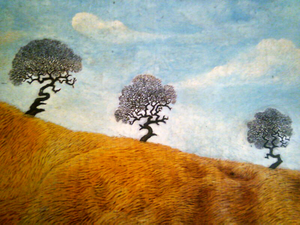 Trees: painting by Saudi
Oo-oh, Where Can You See
W
here in the Philippines did they build a concrete road, traversed barely

by a few,

commercially useless, existing in all its spacious bleakness and emptiness for all to see, really a slap in the face of decent folks; whereas, barely 500 meters

away, a dirt road, which forks to a much densely populated sitios of Orozena,

Orocolai, and Caffas, and used daily by thousands of people, is abandoned and outrageously left to neglect, allowing it to stink and rut?
Our road in Ramiroville, Macanhan, Cagayan de Oro City, is that shameful dirt road, rutted with moon-like craters, suited for mountain goats when dry, and with a horribly polluted drainage, just as aptly suited for aggrieved toads to croak during rainfall.
People have lived here on this dirt road, once a trail, now populated and growing, when the biggest mall in Cagayan de Or City was only a dream in the minds of the Limkit-kai family. The land here was a wasteland, covered with grassland and marshes, and even now, the present generation - us unfortunate - can still smell the marshland, and cough the havoc of Typhoon Sendong of last year, December 17, where its closest subdivisio neighbor, Emily Homes, 450 meters, east, was swamped with flash flood to the rooftops, the cars floating by like ghost ships, and over eighty 'Emily Homes' people drowned in the slush and rushing waters, and thousands watched helplessly as their homes was washed away and disappeared in their very eyes .
Luckily, us on high ground, in back of XU Estate, all survived, though waterlogged, breast-deep in slush and mud, we got through in spite of the torrents of water rushing around us from the ancient drainage and moon-cratered dirt road, which was no longer a road but a turbulent river.
It is not all over yet, won't ever be, yes, not until the dirt road and ancient drainage are repaired, resuscitated from ancient dullness, and its mediocre existence.
However, presently, our immediate fear is that the donation of the lot, 2,314 sq. meters, by the heirs of Apolinar Ramiro, Sr., valued at some two million pesos (estimated over four years ago, now surely costing thrice as much), will be lost next year¾taken back by the donors as stipulated in the deed of donation, which expires in five years if the government neglects it, as it has done so far, not unpectedly, and our dismal road and mosquito-infested drainage are not lifted to present-day, even, minimal standard.
So, an urgent appeal has been made to our representative, 1st district, Honorable Benjo A. Benaldo, inniated by a Ramiroville resident Teofilo Lucagbo, second week of last month, and signed by hundreds of residents, supported and confirmed in a matter of days by them. Hudreds more are waiting to post their signatures, amen.
We here in Macanhan, despite years of neglect ushered in by both local government and barangay officials¾oh yes, guilty as the butler who ushers in an unwanted guest¾are hopeful still, firm in our belief and faith, that help may yet be just around the corner. Yes, quite so in spite of!
For now a bright light and veil of illumination have just hovered over our bleak land, undulating, phosphorescent with hope.
Indeed, we are hopeful because next year is election year, oh yes, and as the insipient circus begins, our hope rises, too, as it has always done, but, be it as it may, that unlike previous years, our political and elected officials (who in all damnation wish to be re-elected) will this time do something about it, our ancient drainage and moon-crated dirt road.
So, pray no more floods, poisoned slush waters, ancient canals and moon-crater road, which, with roaring suspicion, are worse than those built during the time of Ceasar and Hannibal the Great. And above all, pray, kneels down, crouch, that there be no more Typhoon-like Sendong.
Oo, yes - Knock on wood!